Exploring Tropical Far North Queensland
Before you cross Queensland off the "Australia: to-do" list, check out what Tropical Far North Queensland has to offer.
When you think of tourism in Australia, I bet the first thing that springs to mind is the iconic Sydney Opera House, or maybe Uluru.
If I give you some more thinking time, you can probably conjure up images of beaches with pristine white sands.
For international tourists, the journey to Australia is so long. I don't blame you for wanting some relaxation away from the hustle and bustle of our more popular tourist attractions.
But where can you go in Australia that is slightly off the beaten track and doesn't take a week's driving to get there?
FNQ. Far North Queensland. The Tropics. Home to the Great Barrier Reef, those iconic beaches and a good collection of unique wildlife.
Cairns is where you want to be. Easily accessible with a domestic and international airport, and the Great Barrier Reef and Daintree rainforest are on its doorstep.
Far North Queensland offers some truly magnificent natural wonders of the world.
Cassowaries, just one of many unique wildlife you will meet on your Far North Queensland Adventure. Photo by Gilles Rolland-Monnet on Unsplash
The Great Barrier Reef
If you are in Queensland then you absolutely must head out to find Nemo on the Great Barrier Reef. Visible from space, you can pick from thousands of reef systems, its coral cays, or some breathtaking islands to explore.
You can scuba dive or snorkel your way around. If swimming isn't your thing then there are glass bottomed boats, semi-submersibles or helicopter charters.
Cairns has an abundance of tour operators who cater for every type of tourist. Rest assured you will find a reef experience that is just right for you, within your budget.
Photo by David Clode on Unsplash
Take a day trip to Green Island where you can snorkel with turtles
Photo by Jodi Nelson on Unsplash
The Daintree Rainforest
UNESCO have awarded World Heritage status to the North Queensland's Daintree Rainforest. Where the forest, literally, meets the sea.
Join a guided tour and search the rainforest for the proud dad cassowary and his chicks, or one of the many resident crocodiles on the Daintree River. You can even prolong your stay at an eco-lodge. Or join with the traditional custodians of the land, the Kuku Yalanji people for a different perspective on this part of the world.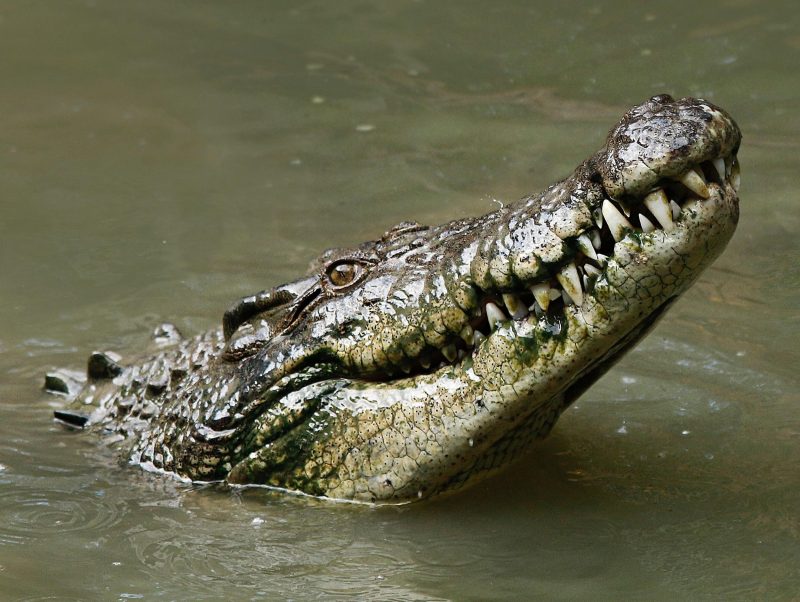 Croc Spotting on the Daintree River will never disappoint.Photo by vaun0815 on Unsplash
Mamu Tropical SkyWalk
South of Cairns, The Mamu Tropical Skywalk takes its name from the Ma:Mu people traditional owners of some of the lands around Innisfail.
The canopy walk offers stunning views along its walkways which rise 15 metres (49 ft.) into the forest.
You can climb the 37 metre (121 ft.) observation tower and make full use of the panorama setting on your camera.
Tjapukai Cultural Park
Tjapukai Cultural Park provides an insight into the lives of the oldest, continuous culture on Earth. Visitors, day or night, can see traditional dances, taste bush foods and partake in some hunter/gather methods.
Using state of the art visual effects and traditional storytelling techniques Tjapukai share Dreamtime stories in a unique way with guests.
Tjapukai also tell the painful history of the Stolen Generation and celebrates some inspirational Indigenous people both past and present.
Tourists to this Cairns attraction gain a sense of the positive ways tourism and culture interact, and the benefits Far North Queensland tourism brings to Indigenous Australians.
Not usually found on a "things to do list", this is arguably the most important tip here.
Indigenous art tells stories through its use of symbols and icons. Indigenous artists paint the stories belonging to their family that they have permission to tell.
Unfortunately there are many fake Indigenous souvenirs. This misleads tourists who buy souvenirs in good faith, wanting a memento of their vacation. Fake Indigenous art also exploits Indigenous artists when their work is copied, and distorts important cultural traditions.
By buying an authentic souvenir, such as a Keiora Candles Australiana Travel Tin, you are supporting Indigenous artists, ensuring this ancient culture and its traditions survive into the future.
Authentic indigenous artwork is so much more than a mass produced, kitsch souvenir.
Take away more than memories from your tropical Queensland adventure knowing you are supporting local artisans and keeping an ancient culture alive.
Words prepared by Bec Trattos of Trattos Type