Enthralling, historical Jaipur, Rajasthan's capital, is the gateway to India's most flamboyant state.
The serene temples, the long-standing forts and palaces, and beautiful havelis with royal touch to them; add on to the glory of Jaipur. Wonderful landscapes, marvellous flora and fauna, picturesque views; all together create a mesmerising view of this place. Only forts and monuments aren't the attractions of this pink city, if you are a pottery or craft enthusiast, do not hold back your desire to own one of these beautiful pieces.
' Blue pottery' is named so after the blue dye, derived from cobalt oxide, used to colour the artefacts. Their splendid colours and patterns lifts your spirits to a higher level. Blue Pottery has its origin from Persia but through the years has found its home in India…in the majestic city of Jaipur. A city of kings and royals, it is here that one of the rulers who was a connoisseur and promoter of art encouraged this form to flourish. Various traditional and contemporary articles of exquisite designs and patterns are made of Blue Pottery. The craft derived its name from the eye catching blue colour which is dominant in this art. 
The process of making handmade blue pottery is tedious and time consuming. Blue Pottery, with its enormous potentiality, did not flourish in the early 19th century as master potters refused to share their trade secret with other fellow craftsmen. Eventually this led to lower standard of production. The craft was dying slowly. With the timely intervention of a royal family in the 1960's, this craft received a much-needed boost to regain its early glory. With the entrance of internationally renowned artists into this field, the standard of Blue Pottery was raised further up. Earlier the product range was limited to bowls, plates and vases but now several utility items with contemporary designs are being made.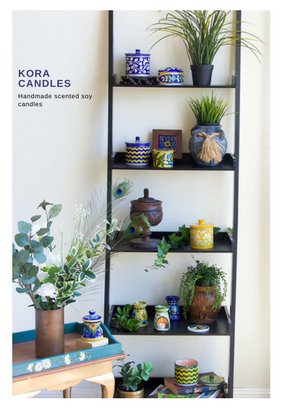 Blue Pottery is one of the most durable and stunning piece of art and its use is employed globally. The bright blue colour brightens up the surroundings and enhances the look of your home instantly. It is amazing how a few simple additions of Blue Pottery articles can make your space so beautiful. This craft provides work for thousands of craftsmen who have successfully passed on this form of art to their second and even third generation. The future of Blue Pottery looks better and brighter than ever now.
I have always admired the colours of these potteries and have been enthralled by the craftmanship of these eye-catching pieces of art. Being a candle maker myself, I can completely relate to the hard work that goes behind in making these handmade artefacts. By including them in our KEIORA's product range, I feel that it's my way to appreciate and acknowledge the artists and their craftsmanship.
I am extremely excited to launch this new range of candles which are purely handmade with love and passion…
Best Wishes
Deepa